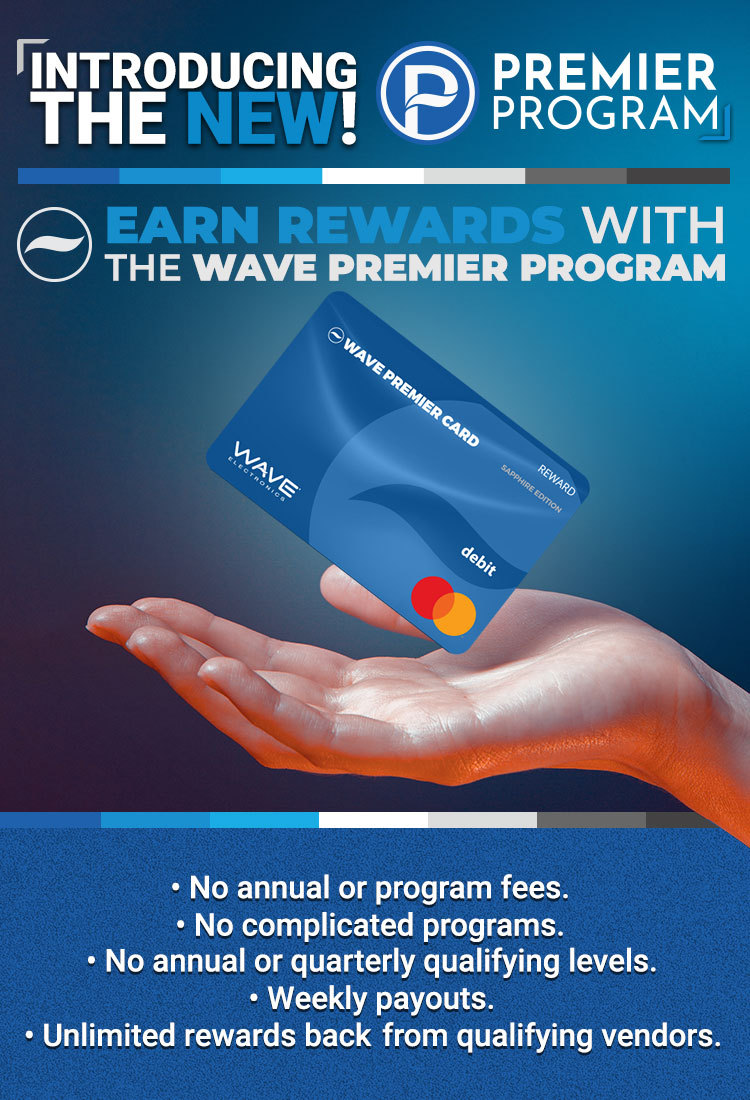 WAVE PREMIER PROGRAM OVERVIEW
The WAVE Premier Program offers registered dealers the ability to earn rewards weekly on all qualifying purchases made through WAVE Electronics. Dealers will earn up to 5% back based on the purchases of all MSTR Brand products and from the participating vendors listed below. There is an additional 3 month bonus period where dealers can earn up to 7% on brands that have never been purchased before. Dealers can choose whether to receive their reward funds on a prepaid MasterCard® or have their WAVE account credited for the same amount.
PARTICIPATING VENDORS & REWARD PERCENTAGES
FAQs
Sign up & Registration
How do I sign up and what is needed?
Visit rewards.wave-electronics.com/enroll for the sign-up page and make sure you have your exact account number for account verification.
What if I don't know my acct #?
Contact your local WAVE sales associate and they will be able to help identify your account number.
Who is eligible for the program?
The owner or operator of the company.
Do I have to provide my social security?
Yes, all participants receiving rewards are required to provide their social security number.
But what if I want credit on my WAVE account instead?
The social security number is a security measure to validate the account and is required for all WAVE Premier participants.
How long does it take to be enrolled into the program?
Approval can take 24 – 48 hours.
Pre-paid MasterCard®
 After registering, how long does it take to get my card?
It takes 3 to 4 weeks for cards to arrive after registration.
What happens to my rewards while I'm waiting on the card?
They are tracked on the portal and will be available to use once card arrives.
What day are the rewards funds posted to my card?
Fridays, for the sales from two weeks prior.
How do I get paid out on my invoices?
If your account is current, you will get paid on all participating vendors.
Where can the card be used?
Anywhere MasterCard is accepted.
Am I taxed on the rebates to my card? Do I need a 1099?
Any funds applied to the pre-paid MasterCard are subject to taxes.
If I don't want to pay taxes, is there an option for credit on account instead?
Yes, upon registration you can choose between the pre-paid MasterCard and credit on account. Once the option is selected, it cannot be changed.
Portal
 What can I see on the dealer portal?
The portal will show participating vendors, percentage earned, and total amount earned for each week by each vendor.
How do I see past reward earnings and past payments?
There are two tabs at the top of the page Rewards and Payments respectively.
Program
 Will I earn rewards if I have an SPA with that vendor?
This will depend on the individual vendor. Any exceptions will be listed in the Program Details on rewards.wave-electronics.com
Will vendor-funded promos still earn rewards? What about WAVE sponsored promos?
Yes, these are included if the vendor participates without stipulations. Any exceptions will by listed in the Program Details on rewards.wave-electronics.com
What happen to the 9/3 program? Can I just stay with 9/3?
With the launch of the WAVE Premier Program the 9/3 Rebate Program is sunsetting. WAVE strives to provide the best rewards program with the fewest hoops to jump through which is why we are focusing solely on the WAVE Premier Program.
Is there a special freight program included? Free shipping?
Our current freight programs apply for small parcel and truckline.
Weekly Rewards
Rewards will be paid in the form of prepaid MasterCard® or a credit on WAVE account.
Rewards are not transferable.
Exclusions
All participating WAVE Electronics dealer accounts must be in good standings and current to receive the reward.
Dealers must have no previous debt to WAVE Electronics to participate in this program.
*The WAVE Premier Program is subject to change at anytime and without notice.
Issuer Statement:
Use your card everywhere MasterCard is accepted in the U.S. Issued by The Bancorp Bank, Member FDIC, pursuant to license by MasterCard International Incorporated. MasterCard is a registered trademark, and the circles design is a trademark of MasterCard International Incorporated. Your use of the prepaid card is governed by the Cardholder Agreement, and some fees may apply. This is not a gift card. Please note that prepaid cards are subject to expiration, so pay close attention to the expiration date of the card.