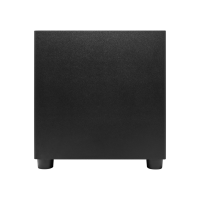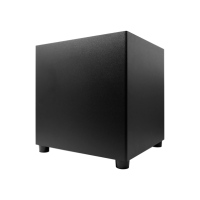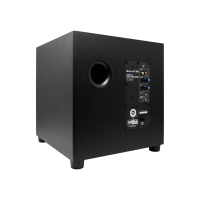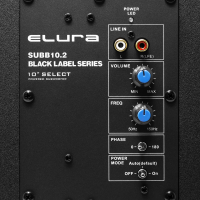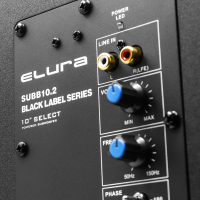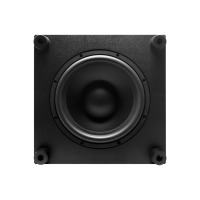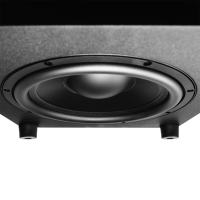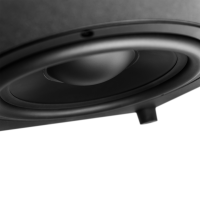 Elura SUBB10.2 Black Label 10" 175-Watt Down Firing Power Port Subwoofer
MDF cabinet. Paper coned woofer. Down firing power port. Line & speaker-level inputs. Power 175 watts. Impedance 8 ohms. Frequency Response 30-150 Hz. Dimensions 14.5x 13.5x 13.5. Black PLT/16 ***MSTR BRAND FAMILY OF PRODUCTS
BLACK LABEL
The Elura SUBB10.2 is a self-powered subwoofer that frees your receiver or power amplifier from the power demands of reproducing very low frequencies. To do this, the Elura SUBB10.2 incorporates its own built-in crossover system that automatically assigns lower frequencies to its own power amplifier, contained within the subwoofer enclosure.
The Elura SUBB10.2 has been meticulously designed and tested to insure high performance, durability and longevity
Powered Down-Firing Woofer in Vented Enclosure
10 High-Excursion Polypropylene Cone with Rubber Surround
1.5"" (35mm) Voice-Coil
Digital (Class D) Amplifier
Power 125 watts RMS, 175 watts peak
Frequency Response 30Hz - 150Hz Variable
Crossover Control 50 - 150Hz Variable
Black Vinyl Finish
1-YEAR WARRANTY - Elura speaker products are guaranteed to meet or exceed the specifications included in this manual and carry with them a lifetime limited warranty under normal conditions of use. This warranty covers free parts and labor on all components with the obligation that Elura will repair or replace any component found defective in materials or workmanship. This warranty does not apply to products that have been abused, incorrectly installed, modified, disassembled and/or repaired by anyone other than Elura or our appointed repair facility
Specifications
Amplifier Digital (Class D) with switching power supply, thermal protection, overload protection, soft clipping, short circuit protection, high-efficency, with low power consumption in standby mode.

SUBB8.2 100 watts RMS, 150 watts peak
SUBB10.2 125 watts RMS, 175 watts peak

Input Connections RCA L/R, LFE Line Level
System Design Vented Enclosure with Down-Firing Woofe
Woofer

SUBB8.2: 8" High-Excursion, 2" (50mm) Voice-Coil, Polypropylene Cone with Rubber Surround
SUBB10.2: 10" High-Excursion, 1.5" (38mm) Voice-Coil, Polypropylene Cone with Rubber Surround

Frequency Response

SUBB8.2: 38Hz - 150Hz Variable
SUBB10.2: 30Hz - 150Hz Variable

Crossover Control 50 - 150Hz Variable
Controls Power, Volume, Off/Auto/On, Phase, Crossover Frequency
Video-Shielded No
Dimensions (including feet)

ESUBB8.2: 12.8" H x 11.8" W x 11.8" D (325mm H x 300mm W x 300mm D)
SUBB10.2: 14.5" H x 13.5" W x 13.5" D (368mm H x 343mm W x 343mm D)

Weight

Elura SUBB8.2: 18 lbs.
Elura SUBB10.2: 23 lbs.
Manuals & Technical Documents
This download is available in more than one file format. Please select the file format you want to download.
Pending Reviews